"[AI] is going to change the world more than anything in the history of mankind. More than electricity."— AI oracle and venture capitalist Dr. Kai-Fu Lee, 2018
Artificial intelligence is impacting the future of virtually every industry and every human being. Artificial intelligence has acted as the main driver of emerging technologies like big data, robotics, and IoT, and it will continue to act as a technological innovator for the foreseeable future. AI is taking over all industries. Some sectors are at the start of their journeys and some are veteran travelers. Both have a long way to go.
Without no doubt, Artificial Intelligence is the future of the world. Different sorts of humans-like machines are already being developed and implemented in various sectors, revolutionizing our scientific development and affecting our daily lives. So acquiring a degree in AI will automatically put you in a position of power. The kind of opportunities that are associated with AI guarantees you a bright future.
However, becoming a professional in this field is not a walk in the park. It requires an outstanding level of knowledge from a variety of cross-sectional subjects, a unique creative sense, and a strong motivation to keep you going.
As we all know that the UK is a global leader in higher education, given that the UK provides numerous contemporary courses in Artificial Intelligence.
UK universities offer numerous attractive degree courses in Artificial Intelligence designed to equip you with a wide set of applicable skills and knowledge, while also helping you to establish a basis for unique and persistent academic research strategy.
University College London
UCL is a comprehensive global university located in a technologically advanced global city. It is particularly well placed to contribute to the development of AI technologies. As a consequence, there AI and AI-related programs of study and research offer the very best opportunities to succeed and innovate in this field.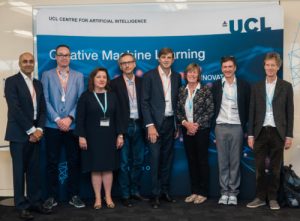 It is ranked among the top 5 universities in London. UCL is one of the best Computer Science Schools in the UK. It is home to world-leading researchers and research centers. It is fully equipped to prepare you for a rewarding career in the AI industry.
Classroom-based lectures and practical sessions at this university are delivered hand in hand to ensure you gain the skills to apply this knowledge in real-life settings. Professional guidance and the mentorship you'll be receiving at any moment will count for a fulfilled education.
The University College London offers you the following Post-graduate Artificial Intelligence programs.
MSc Computational Statistics and Machine Learning
 Data Science and Machine Learning
MRes Computational Statistics & Machine Learning
 Robotics (MRes)
 Virtual Reality (MRes)
Artificial Intelligence and Neural Computing
University of Kent
At the University of Kent, you'll find an inspiring environment of excellent students and leading experts in Artificial Intelligence. Their degree courses in Artificial Intelligence are very innovative while state-of-the-art facilities will enable you to run practical sessions highly required in this study area.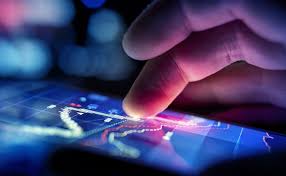 At the end of the course, you'll possess a set of applicable skills and cutting-edge knowledge which will be much sought-after from prospective employers.
Here's what the University of Kent offers for prospective Artificial Intelligence students
Computer Science (Artificial Intelligence) – BSc (Hons)
Advanced Computer Science (Computation Intelligence) – MSc
University of Sheffield
Sheffield's department of computer science offers few of the best AI degrees. Their approach and emphasis on the practical side of the field are commendable. They make sure to incorporate the upcoming changes in AI into their course modules.
AI courses at this institution put a large focus on the relationship between humanoid intelligence and computational machines and seek to explore ways that the former can be applied in the development of computational machines.
The following Artificial Intelligence courses are available at this university
Artificial Intelligence and Computer Science BSc
Artificial Intelligence and Computer Science MComp
Loughborough University
lboro degree in AI allows students to specialize in the exciting field of artificial intelligence (AI), the science of mimicking human intelligence using computers. Their degree contains broad coverage of all major computer science topics as well as specialist modules in artificial intelligence, taught by world-leading experts. Their research constantly feeds into the teaching curriculum, leading to learning cutting edge techniques.
Loughborough University offers the following degrees in Artificial Intelligence
Computer Science and Artificial Intelligence BSc (Hons)
Computer Science and Artificial Intelligence MSci (Hons)
Computer Science and Artificial Intelligence MSci
University of Leeds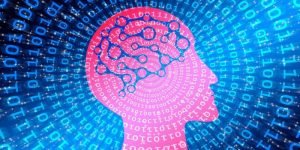 AI at Leeds is highly research-oriented. Leeds has multiple projects going under its Artificial Intelligence department. Their research is globally recognized. Programs at Leeds are designed in a way that they aim to provide practical knowledge more than the theoretical.  Core modules will give you a foundation in topics like systems programming and algorithms, as well as the basics of machine learning and knowledge representation.
You'll gain a broad perspective on intelligent systems, covering evolutionary models, statistical and symbolic machine learning algorithms, qualitative reasoning, image processing, language understanding, and bio-computation as well as essential principles and practices in the design, implementation, and usability of intelligent systems.
The University of Leeds offers the following degrees in Artificial Intelligence:
Computer Science with Artificial Intelligence MEng, BSc
Advanced Computer Science (Artificial Intelligence) MSc
Imperial College London
The Artificial Intelligence network covers all AI-related research activities within Imperial College London. As part of this, they train the next generation of AI experts and academics, within there multiple Centres for Doctoral Training and provide research and networking support through the Human-Like Computing Network.
The university offers AI courses only at the postgraduate level:
MSc Artificial Intelligence
Computing (Artificial intelligence and Machine Learning) MEng, MSc
Health Data Analytics and Machine Learning
Human and biological Robots
These courses are designed to suit every type of student who has a particular interest in computer sciences. The MSc Artificial Intelligence is a perfect fit for STEM graduates who want to use their mathematical knowledge in gaining a degree in computer science. Computing (Artificial Intelligence and Machine Learning) is a fantastic option for those students who already have a background in computation.
University of Manchester
Claiming to be the largest Computer Science school in the UK, the famous University of Manchester offers some of the best Artificial Intelligence courses. Its research sits at the forefront of fundamental research and seeks answers to questions that could revolutionize AI. From the theory and practice of machine learning, including deep neural network architectures, causality, and knowledge representations, through to robot-human interaction and language learning. Manchester is forging a path toward the seamless integration of intelligent systems into our natural environment.
The followings include Artificial Intelligence courses offered at the University of Manchester:
Artificial Intelligence BSc
Artificial Intelligence MEng
Artificial Intelligence with Industrial Experience BSc
Artificial Intelligence with Industrial Experience MEng
ACS: Artificial Intelligence MSc
Advanced Controls and Systems Engineering MSc
Liverpool Hope University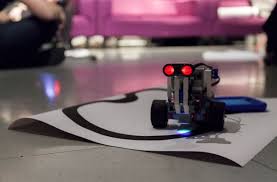 The highly reputed Liverpool Hope University has a nationwide appealing for its courses in Artificial Intelligence. Here you'll be equipped with a wide range of much-coveted and applicable skills through interactive lectures and regular practice sessions conducted in their fully-equipped facilities and in different workplaces provided by their industrial partners. Not surprisingly, AI graduates of this university are highly sought-after in the job market.
Liverpool Hope University offers the following courses in Artificial Intelligence:
Artificial Intelligence BSc
Artificial Intelligence (with a year in Industry) BSc
Artificial Intelligence MSci
Artificial Intelligence (with a year in Industry) MSci
needs. In addition to regular lectures from experienced people from the industry, you will also have the chance to gain work experience during your studies.