When you start your journey as an international student initially you are quite excited about independence and freedom. However, 6 months down the lane you start getting homesick. As we all know nothing can compensate for the comfort of one's home. Your definition of home can be anyone or anything. It can be the family, significant other, or the physical setting.
Given that, there is good news for the students who have a Tier 4 visa. Fortunately, you can bring your family members to the UK on your Tier 4 visa.
Below mentioned are a few details that will further elaborate on it.
Who is eligible?
Your family members (dependants) might be able to apply to join or remain with you in the UK if they're from outside the European Economic Area (EEA) or Switzerland.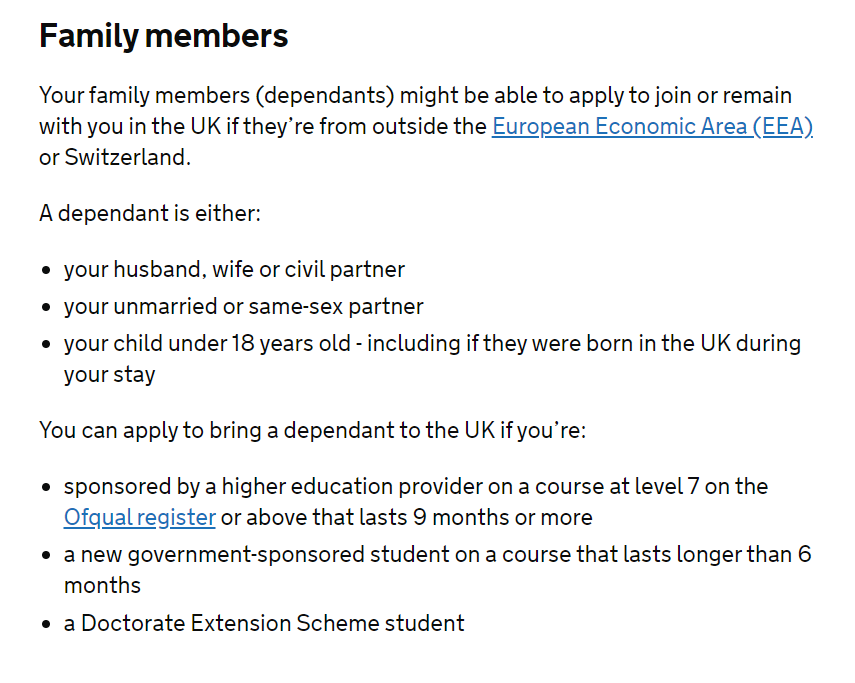 A dependant is either:
your husband, wife, or civil partner
unmarried or same-sex partner
your child under 18 years old – including if they were born in the UK during your stay
You're eligible to invite family members to join you in the UK for a certain period of time on your Tier 4 student visa if the following conditions are met: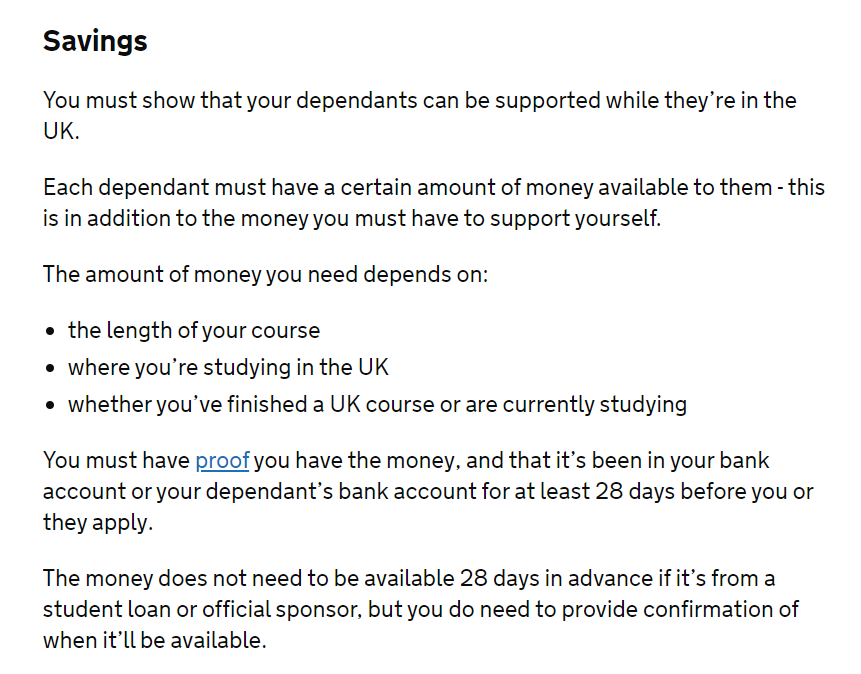 You're studying at the postgraduate level.
Your degree course is full-time and takes at least 9 months to be completed.
You're attending a study program 6 months or longer, which is funded by the UK government or a foreign government.
You're a Ph.D. graduate holding visa under the Doctorate Extension Scheme.
Adding on, if you are studying for an advanced diploma then you aren't eligible to bring your family member.
Furthermore
If you want to extend your Tier 4 visa to further stay in the UK, your children aged over 18 are also eligible to apply for an extension as your dependants. For details concerning this issue, it is recommended that you reach the International Office at your university in the UK or the Home Office.
Moreover, if your spouse/partner is applying then strong evidence must be provided. If you are married, then a marriage certificate must be provided. On the contrary, couples who don't have regular civil status have to live together during the whole time they spend in the UK.
In general, if children want to apply for a Tier 4 Dependent visa both of his parents must be living in the UK or are going to do so in the near future. There are surely exemptions to this rule. If for whatever reasons both parents don't live in the UK, the one who does is required from immigration authorities to provide strong and reliable reasons as per why is important for him/her to have his/her children close. If for example, parents are divorced the one living in the UK must prove he/she is responsible for the child.
How to apply for Tier 4 Dependant Visa?
To apply for a Tier 4 Dependent visa your dependents must present the following documents:
Their Passport.
A Tuberculosis certificate.
Proof of your relationship (for instance if they're your husband or your wife they have to submit the marriage certificate).
Proof you have been granted a student visa beforehand.
Your family members are not allowed to apply for a Tier 4 visa until you have been granted your student visa. Similarly, if you are in process of extending your Tier 4 visa, your dependents will have to wait till after you receive a response.
Your dependents can apply for a Tier 4 Dependant visa online. There is an application for each dependant.
Initially, they will be issued a temporary residence permit for 30 days. On entering the UK land, the first thing they need to do is to make an appointment at UKVCAS. It's important as they need to collect their biometric information to validate their identity.
Biometric information contains some of your personal data including name, date, place of birth, immigration status, your accessibility on public funds like health services, and also your fingerprints and a facial image.
In case you want to extend your visa or switch to another type of UK visas, you and your dependents are required to apply at the same time. If for whatever reason this is not possible, your dependants must wait for your application to be processed so they apply for their dependant visa.
How Much Does it Cost to Get a Tier 4 Dependent Visa in the UK?
Every dependent applying for a Tier 4 dependant visa must pay: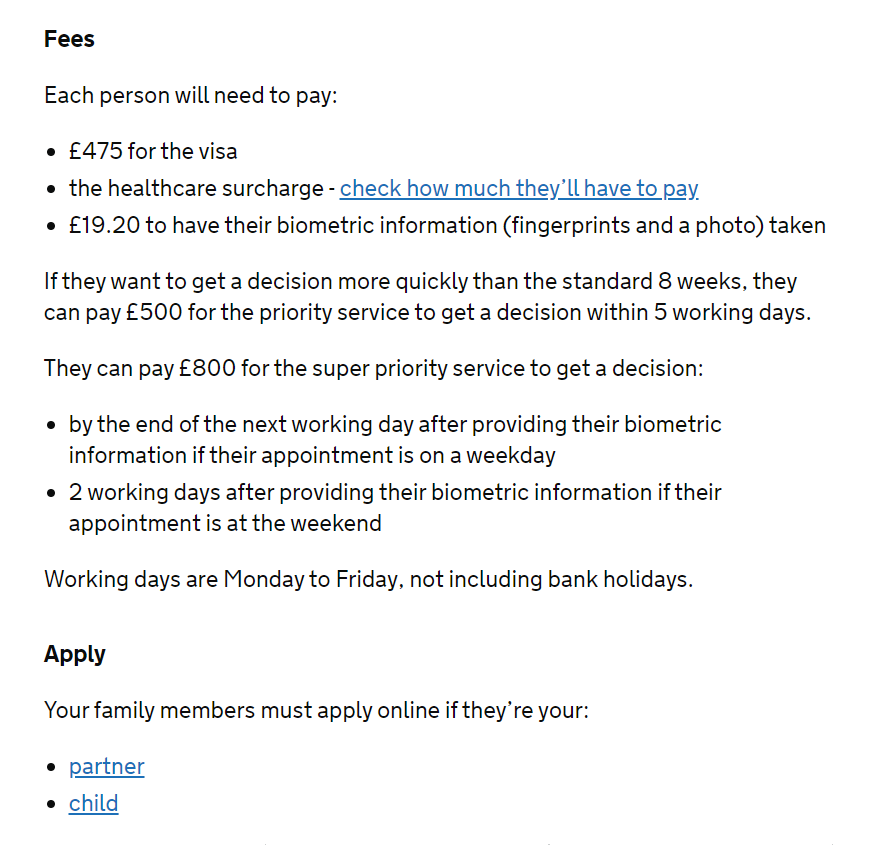 ₤475 for the visa (₤348 for dependants who apply outside the UK).
An additional yearly healthcare charge (around ₤300).
Around 20 to get a biometric residence permit.
Under normal circumstances, your dependants have to wait up to 8 weeks to receive a decision. However, you can pay £500 for the priority service to get a decision within 5 working days. If you want a super-priority decision, then you can pay £800. In this case, you will get a decision in 2 working days.
Financial Resources
The most important factor while planning to bring your family is to make sure they have sufficient financial resources. Your family members must have properly documented proof that shows that they can afford to live in the UK. otherwise, your visa will be rejected.
To note that your personal funds can't be provided as evidence. The amount of money that requires to be shown depends on your course tenure and which part of the UK they plan on living in. whether you are still studying or graduated also counts in for the decision.
Your dependent must have at least ₤680 each month to a maximum of 9 months. In total it becomes £6120, this amount of money is required for the visa to be issued. Nevertheless, it is recommended for them to collect more funds because chances to get the visa would then be higher
A bank statement that testifies the money belongs to the person in question is sufficient proof of financial resources. Make sure those funds have been deposited at least 28 days before getting the document.
Note:
If you're studying in the UK on a scholarship or a similar grant, it is possible for you to provide financial coverage for your dependants as long as this is allowed by your sponsor. In that situation, immigration authorities in the UK will require you a document from your scholarship provider which confirms the amount of money they do offer you to cover your dependents. If that amount is not sufficient you need to provide additional funds