Universities and colleges set their entry requirements for higher education degrees/courses. These vary conditionally on the subject, the particular course, and the institution. The encouraging part of studying in the UK is that if for instance, you don't meet the requirements for a particular course, you can always choose another which varies in the level. And continue to work your way up.
The general set entry requirements for each course are created to assess that you have the right skills and knowledge to complete the course. These requirements entail.
1.     Qualifications, subjects, and exam grades
Most courses expect you to have at least completed a 13-year education. Intermediate, A-levels, or equivalent level qualifications are required. Sometimes these are converted into UCAS tariff points.  For courses at UCAS, grade requirements can vary. As per UCAS AAB (A-level), AAAB (higher) are required for entry. Average Universities may accept CCC in your A-levels.
These grades should be equivalent to 112 tariff points. Some courses also require grade points in specific subjects. If you have done intermediate, then the requirements vary from university to university. For example, Manchester University requires 70% in your intermediate.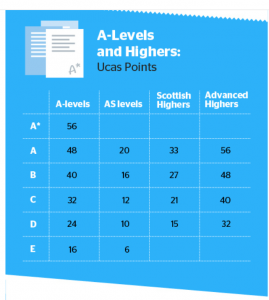 If you are applying for postgraduate, then GPA requirements are 2.6-2.8 for upper-class degrees and 2.4-2.6 for lower class degrees.
Certain universities don't look at the grades, for certain subject matters. A university may require you to have taken one or more particular subjects to prove your suitability. Some universities may not accept certain subjects and request for additional requirements. For example, Leicester doesn't accept general studies when applying to biological and medical sciences.
These requirements vary with respect to your country you are applying to and the university you are applying to. Universities Websites have different pages for each country requirement.
Your course choice and university may want certain academic grades or percentages. however, also depends on the force of competition and academic level.  your academic scripts are also asked for along with your application.
2.     Language
The demonstration of your English language skills is essential. particularly if you are not a national of a majority English speaking country or you haven't completed a degree in English. check with your respective university that how do they want you to test for it. Further details for this requirement are discussed below.
3.     Your suitability
Your course narrative covers the skills, interests, and experience needed for that particular course. Universities might check your suitability for a certain course, concerning your previous qualifications and career path.  So before the application process lookout for these details. For example, some courses require you to have studied certain subjects. If someone wants to apply for medical or literature. There should be a proper subject history in accordance to your course choice. Some universities also ask for particular subjects.
4.     Admission test
Admission tests aren't that common, they are mostly conducted for international students. This is because they want to see your basics and eligibility for the previously attained education. As the number of applications is very large, so is the competition.
A few of the admission tests include LNAT (National Admission Tests for law), mathematics-related courses require MAT and STEP. Both these tests are required at the undergraduate level.  These tests are mainly used by the University of Cambridge and Warwick.
Business schools require GMAT, for example, London Business School, Cranfield School of Management. All these courses require different scores for their respective schools. Medical Schools require BMAT. So these are the few common tests that are carried out in the UK.  In order to perform well, one must prepare meticulously. Few universities conduct their tests a year before the course start date. Therefore, visit their websites regularly.
5.     Reference letters
Universities in the UK are highly choosy. The number of seats available is limited as compared to the incoming applications. So the process of scrutiny may require some extra measures. Such as certain additional documents i.e. reference and experience letters. These references can be of any academic or industry professional you have worked with and can vouch for you that you are capable of this particular course. The stronger the reference the stronger the application. These documents are used as proof that you have the required competence level for the chosen course. An image of a reference letter is attached below
6.     Interviews
Very few universities tend to carry out interviews. Either for all of their applicants. University of Oxford and Cambridge are known to carry out interviews, it is an important part of their admission process. But there also a number of other universities such as Imperial College London who interview their applicants.
Their certain courses that might have an interview requirement. Some broader Subjects might have a likelihood to conduct interviews such as dentistry, nursing, social work, and education. Courses such as literature, politics, history are least likely to put interviews as an entry requirement.
You are informed beforehand about the date and time. the purpose of an interview is to know about you, your goals, and corresponding plans. The majority of times interviews are used as a deciding tool among students with the highest potential.
7.     Student Visa
If you are living outside the UK and not an EEA, you will need a student visa. Once you secure a place on a course, your respective university will help you with your visa application.
UCAS

The main body for admission in the UK is UCAS (universities and colleges admission services). A large number of universities only accept your application if processed through UCAS. Students applying for their bachelor's need to use the UCAS portal for the applications. As far as masters and Ph.D. degrees are concerned one can directly apply to their chosen universities.
Following steps will make your application process with UCAS easier
Register and create an application form on the UCAS website
Choose 5 different programs in the same university or different university, depending on your priority list.
Complete your personal information
Complete your educational history
Add Financial information
Attach your statement
The application portal of UCAS is extremely user-friendly. You can easily save your application and revisit it as many times as you want. You can also review your form after completing your application form.
Clearing
In specification to the universities in the UK, there is an application method knows as clearing. It is service at UCAS that allows universities to fill spaces on the courses that aren't full. This helps the students with no offer letters on hands, by giving them a second chance at higher education.
It is a way to match applicants to the university places that are yet to be filled. According to the UCAS statistics report, 65,810 students were placed during the clearing process in the year 2019. To be eligible for the clearing process, you must apply through UCAS for a university course. In addition to that, you shouldn't have an offer letter at hand or rejected a one that was offered. your eligibility automatically places your application in the clearing process.

UCAS provides a search tool, through which you can easily see which universities have clearing places available. Once you get qualified in the clearing process for a respective course, UCAS will put you in direct contact with the university. Going forward, all the requirements will be monitored by the university itself. Once the university confirms your admission. You will receive a confirmation letter via UCAS.

Language Requirements
As mentioned above, you will have to sit for an English proficiency test depending on the requirements of your course and university. It is not only a requirement for the application process but will also aid you in your visa application.
The accepted tests in the UK are
·       IELTS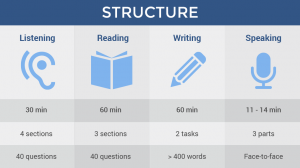 The required score for IELTS in the UK is a minimum of 5.5 for average universities and 6.5 for top universities. However, universities can have different requirements so check with your respective institution.
Fee range (Rs27, 000- Rs28,000) depending on your city.
·       TOEFL

TOEFL is accepted in numerous universities in the UK. 88-96 is considered a good course but some universities also take students with a score of 70. TOEFL is marked out of 120.
Fee (Rs33,322)
·       C1 English Test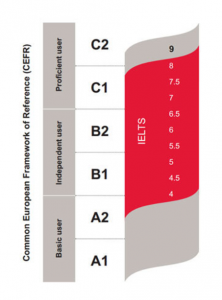 This test is for proficient users of English. You might not need to take this. This is more applicable in visa cases. It consists of 6 categories and if you need to meet CEFR 1 you need to score 6.5 in each category.
Fee (RS32,000)
Timelines
These dates are provided by UCAS. Students who apply through UCAS should follow this timeline. However, don't forget to check university websites. Some might have a different deadline.
1st September, admission opened for the following year
15th October, the deadline for medicine, dentistry, and medicine allied courses
Mid-January, the deadline for EU students
End of June, international students from a non-EU country.
August- clearing process
Universities can have different deadlines, keep checking on their websites. Especially for international students.
Most importantly, you should apply as early as possible. This is students from all over the world apply. The seats for popular courses are filled very quickly. Therefore, to save yourself from disappointment it is encouraged to process your application as early as possible.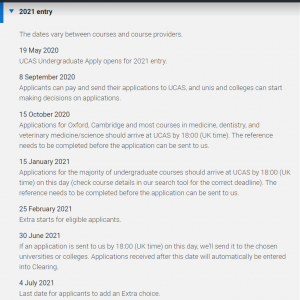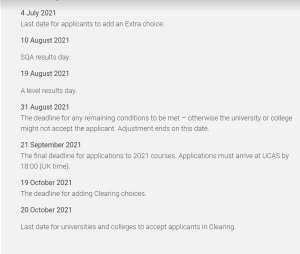 Acceptance Letter
If you are lucky and you get a hand on an acceptance letter, keep in mind a few of the following steps
Be ready for the start of your semester. Once you get your confirmation letter start preparing for your course.
Work on your travel plans, managing money, and course materials. keep things ready before landing on campus.
Finances, if you are on a student loan. Check everything and make sure you have your required documents
Accommodation, work on your insurance, TV license, or any other utilities