In the British education system foundation degrees are equivalent to level 5. Their study plans are an amalgamation of both academic and vocational modules. They are construed and designed in a manner that provides relevant skills needed in a particular profession.
In their own habitat, Britishers don't aspire to pursue a bachelor's degree, but rather focus on developing skills in a distinct field. And for this, a foundation degree is an ideal pick.
The best thing about foundation degrees is that allows you to keep your future options open. Many British students who are not sure about their future career decide to study for a foundation degree because that gives them time to evaluate their talents, desires, and career options.
If during the course of your foundation degree, you can go to study at a university too. In case, you feel like going for a bachelor's degree you can easily switch. As a foundation degree corresponds to two-thirds of an undergraduate degree, therefore switching would not be a problem. If you decide to do that, then you will attend an additional year at university.
Note that foundation degrees and foundation courses are not the same things. The former leads to a qualification, hence the name, while the latter is designed to help students measure up their academic capacities with the university's demands.
Foundation Courses for International Students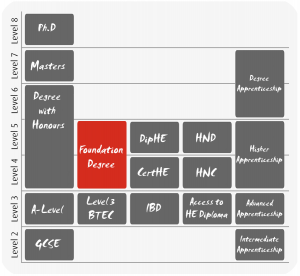 Studying in the UK isn't hard if you have an exceptional educational background. International students put a lot of pressure on themselves to meet the entry requirements of the universities. Even then they face a little difficulty in starting off. However, this doesn't mean you should give up. By all means, you can still fulfill your dream.
More than 4 million students head towards the UK each year. All form different backgrounds and educational abilities. These students sometimes lack the fundamental training for a specific degree, in order to cater to this UK offers preparatory courses. These courses are designed to equip you with the knowledge required for your regular course.
Foundation courses in the UK are preparatory courses designed to help international students match the academic standards required by UK universities. If you have attained a foreign qualification which is not recognized in the UK and you still want to study there, it is likely your university will ask you to attend one before commencing your regular studies.
What are the requirements?
Prior to your application for a degree in the UK, you can check which degrees require a preparatory course. At times universities require you to have studied a specific subject in your high school, if you have you can carry with the regular course. However, in case of not have studied that specific course you would have to take a foundation course.
All the requirements are displayed on the official website of the universities. You can research and look for the most suitable one. If you solely applying for a degree program then you don't need to meet any specific requirements. Accredited institutions that provide such courses accept applications from students with a lot of different educational and professional backgrounds. Quite often formal qualifications are not even necessary. Relevant work experience might work as well for your application.
On the other hand, if you want to undertake a foundation year for entering university, you shall not expect a uniform list of documents required to apply for a foundation degree in the UK. It entirely depends on the university or the institution you're applying to.
Most likely the following documents will be required for you to submit
High School Certificate
Certificate of Grades
Language Proficiency
Personal Statement
References
Note: These courses are taught in English. So, in order to qualify you to need to have decent English skills. You will be asked to submit your scores test for IELTS or TOEFL, whichever is required. The criteria of scores entirely depend on the university you are applying too. So you will have to check to yourself.
How to apply?
Once you complete your application folder you apply for your foundation degree in the UK. Fortunately, you can make your submission online, either directly at your university or through an intermediary platform.
The majority of universities in the UK support applications through a mutual online application platform known as UCAS. For applying through UCAS you will need to have an account and upload documents according to the given format. There are few universities that have their private portal for applications. You will have to check which universities work with UCAS and which don't.
How long does it take to complete a foundation degree/course in the UK?
A foundation course can be 32 weeks long. Preparation courses are usually spread out in 3 phases each with its own number of modules. Intensive 6-months pathway programs are available for students who want to complete their studies faster. Faster foundation study tracks start in January and end in August of the same year. However, many international foundation programs have flexible start dates. However, a foundation degree concludes in 2 academic years. If you enroll yourself in a part-time program then it may take longer than 2 years.
How much does it cost to get a foundation degree in the UK?
International fees for foundation courses vary according to the university. It also depends on the course of your choice. As you'd expect study programs where there are regular lab sessions additional costs will apply.
Overall, the range of international fees for foundation degrees in the UK can extend from £4,000 to £15,000.