As a student cost of living is one of the first things that crosses one's mind. And I believe its quite fair. Money is one of the major deciding factors. Students that plan to study abroad must be aware of all the ins and outs of their living costs.
As a student you are always on a budget, there is a certain limit which you can't exceed especially if you are living in another country. Moving across borders can be quite a daunting decision. For which a handful of factors are there to be discussed other than costs and expenses.
However, today we will solely be discussing your living costs, apart from your tuition fee. If you are on a scholarship then you will only have to worry about your living costs, but if you aren't then you will have to add up your tuition fee in these costs.
It may seem, quite intimidating right now. But we will go through everything step by step and come up with the best plan. Before diving in check your current exchange rate against GBP (British Pound Sterling). It will help you in assessing your costs more accurately.
Accommodation

After your tuition fee, accommodation is one of the biggest expenses you will need to take care of. The cost of student accommodation varies on 2 things. Firstly, the type of accommodation you choose and secondly your location. You can seek accommodation from the university you plan to or ether look for private accommodation. Usually, university accommodation includes your internet cost, basic utilities, welfare support.
However, private accommodation is expensive. According to Unipol accommodation costs, London has the highest rent (£157.48 per week) and the cheapest location is Northern Ireland (£83.01 per week). It is important to know what length is your contract, and what costs are included in your contract. Such as utility bills and internet costs. If you plan to live privately, then it is advisable to look for accommodation that is near to your campus. This will not only save your transport costs but also save a lot of time.
Common types of accommodation include halls of residence, house/flat share, private sector halls of residence, private flat. Halls of residence is mainly opted by the first-year students, the main idea is to enjoy the community and exposure.
Freshmen students are more willing to share a living space with some other students. It not only suits your monetary limitations but also enhances your experience. Usually, after first-year students move out and look for other options.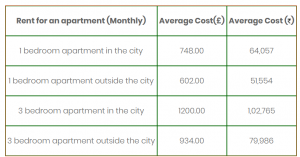 Approximate cost for halls of residence (usually including bills) is £400-£600 per month. Private Accommodation (excluding bills) costs £320-£530. This varies within the city and outside the city. Note that this is the rent for a one-bedroom flat. Adding to this, the cost for halls of residence and private accommodation may vary depending on your university and location.
A few of the cheapest places for international students are Lincoln, Cardiff, Belfast, Leicester, Newcastle, Coventry, Sterling, and Warwick.
These cities besides being student desirable, are also very accommodating. The rent for apartments is very low. Despite having some of the finest universities in these cities, they are quite inexpensive for international students.
Transport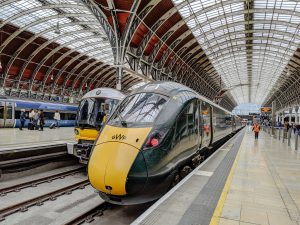 If you are living in private accommodation, then you will have to add transport to your travel expense. Almost all cities provide student discounts on travel passes. This makes public transport an affordable option for commuting. The public commuting for students includes both trains and buses. Cut off cabs from your list as they can be very expensive and mess your budget.
There is a very effectual rail network across the UK. Any student in full-time study qualifies for a 16-25 Railcard. It will save you a third on most of your journeys, which costs £30 for a year. quite worthwhile. Booking in advancement also results in heavy discounts.
The second option for students to commute is buses. You can get many discounts on your travel passes and manage to save a lot of cents. The average cost for a travel pass is £55. But Cities like Stirling and Lincoln offer travel pass in a minimum of £30. Transport expenses are quite inexpensive in some cities.
Utilities
This head includes energy, water, and sewage, broadband, TV license, Council tax, and Telephone.
Calculating an estimate for energy can be a little fiddly, considering the usage fluctuates between seasons. Normally gas and electricity bills are paid combined. However, you can choose to pay separately depending on your choosing or liking.
The expense also depends on the space you own.  1-bedroom apartment might have lower expenses as compared to a 3 or 4-bedroom apartment. But you can always share the apartment with fellow students, so that expense is broken down on each individual.
Energy can cost you between £40-£50 on average per month. In addition to this council tax is also on board. This tax includes amenities like trash collection, street maintenance, etc. the average council tax is £25 per week. Students might get a discount on this depending on the location and number of people living together.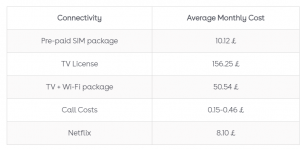 UK residents are charged a TV license for watching television on any particular device, be it a laptop or television. This costs around £150 per year. Your Wi-Fi package will cost you £50.25 monthly. Your prepaid sim package will cost you around £11 monthly.
It all depends on you how you want to divide your expense. Many students don't spend on TV license if living alone. It can be quite expensive. However, students who are sharing a living space can easily manage these expenses. You will have to see according to your priority, what needs to go and what is necessary.

Food and clothes
Students living on-campus don't have to worry about their food expenditures, however, students living in private accommodation will need to consider the cost of food and supplies. Getting your hands on grocery store cards would help you shop with ease. You can always look for suggestions from the locals.
It is suggested to make a grocery list, and follow a meal plan. This will save you from added buying and will help you cut your costs. Preparing at home is always a better idea. You may not shed the idea of dining out once in a while. eating lunch in a restaurant may cost an average student between £5-£20. Grocery items can cost up to £92 per month. One of the cheapest supermarkets in the UK is Sainsbury's and its brands more than 53 brands of products.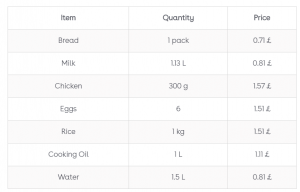 Grocery stores and supermarkets in the UK are quite inclusive. It is very easy to plan your budget, as there are a variety of products available. You can further reduce your expense by shopping for fresh foods from the local market. There are a lot of religious requirements such as halal and kosher, so there is a lot of food variety available for that necessity too. Yearly expense of food supplies can go up to £1900, however, you can spring it down depending on your intake and preferences.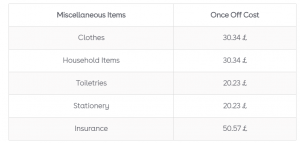 Talking about the expense of clothes, it can vary upon your choice of clothing and style. There are a hefty number of stores available ranging from all types of clothes, students can also avail yearly sales and discounts. The average spending on clothing can be around £25-£30. There are several budget-friendly online brands such as Topshop, Outlook, Next, etc.
Healthcare
The UK has one of the most efficient and known health care systems in the world, known as NHS (National Healthcare System. Depending on the duration of your stay, you can have access to the NHS. This is one of those items on the expense list which is free of cost.
If you are studying under a tier 4 general Student Visa and your duration is more than 6 months than you can access NHS. However, students living under 6 months will need to have medical insurance.
NHS gives you access to free of charge consultation with the General physician, treatment under accident or emergency services, or any treatment recommended by your physician. However, you will have to pay for the prescriptions, vaccinations, dental and optical treatments.
NHS eases a student from the hassle of getting medical insurance and also cuts off an added expense.