There are various benefits attached to studying abroad. Whether you are enrolling for a 4-year degree program or a foundation course, the goal is to pick an ideal course of study. If you are jammed at that decision, we are here to help you.
Speaking of the UK, it is placed with many smart and popular study programs. In the retrospect of research, around 3 million international students fly to the UK higher education per year. A giant number of world-class universities reside in the UK.
Personalities like Chris Pine, Rupert Murdoch, Emma Watson, Oscar Wilde, Indra Gandhi, Hugh Grant, Benazir Bhutto, David Cameron, and many more have pursued their degrees from Britain and made their mark on the world.
Each year, all those millions of students who apply weigh all their options. Keeping in mind all the course choices that are in play. However, the UK has some popular courses in which students from all over the world compete to get admitted to.
In support of some statistics and surveys, today we will discuss a few of the popular courses in the UK. According to UCAS (The universities and colleges admissions service in a UK-based organization whose main role is to operate the application process for British universities) following are some of the most popular courses based on the number of applications submitted and employment rate.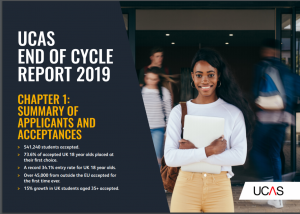 10. Economics
If we talk about Gen Z, they are quite pragmatic as compared to the millennials. Gen Z has gauged the power of economics and return on investment. Economists are extremely useful in terms of employment and economists. If you are smart with numbers then you can go for economics as your major and finance as your minor, or vice versa. Some of the subject modules that you might study in this degree are
Econometrics
economic policy
legal studies
money and banking
global finance
International trade
Economic history
The reason for mentioning these modules is that around the course of a 4-year degree you will studying a lot of courses and linking them back to economics. According to UCAS 58,480 applications were received for this specific subject in the year 2018. A degree in economics can lead to numerous careers such as investment analyst, political advisor, accountant, economist, data scientist, etc.  Around 96% of the graduates have their starting salaries from £26,000.
9. Engineering and Technology

The combination of engineering and technology is quite wholesome, especially in today's day in age. Engineering has always been a trending degree all over the world however today, the toting of technology has made it a more marketable degree.
24% of the UK international students opt for this degree each year. It is quite evident that the number of jobs available is also high. In the year 2015, 121,560 students were studying this degree. In the year 2020 153,720 applications were received by UCAS in this subject group.  The employment rate for graduates is 76.9%.
The top 5 industries where the majority of the placement is through are
IT
Construction
Wholesale and retail
Professional, scientific and technical
Manufacturing
Sales and marketing
Pharmaceutics
Agriculture, forestry, and conservation
A few of the related careers include automotive engineer, chemical engineer, electrical engineer, marine engineer, aerospace engineer, etc. An average engineer in the UK earns £27,000 per annum, but a senior engineer can earn up to £110,000 per annum. So an average engineer can earn quite well, and after a few years, easily elevate their earning.
8. Computer Sciences
In the last 10 decades, almost every individual owns a personal laptop/computer. The shift from desktops to laptops hasn't been a sudden one, but this shift brought a lot of alterations and advancements in how we comprehend this device.
Being equipped with a device is no luxury today, but knowing all ins and out of it is. I remember, around 6-7 years back we hardly use to hear that someone is opting for an undergrad in computer science. Having said that, it was quite rare. Now, every 4 out of 10 students opt-out for a computer science degree.
If we talk about the statistics around 13% of the international students in the UK opt for a computer science degree. In the year 2019, 131,400 applications were submitted for a degree in computer science. The employment rate for CS graduates is 76.4%.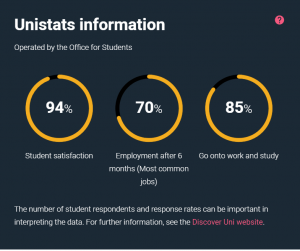 Few of the industries where graduates are placed are
IT
Manufacturing
Retail
Education
Scientific
Technical/ technology
A few of the top career options are web developer, web designer, e-learning developer, network manager. However, if you choose to opt for integrated degrees and develop the desired skill set can further advance in your dimension. Areas such as cybersecurity analyst, software tester, IS business analyst, project manager, etc.
Lastly talking about the starting pay scale of computer science, an average computer scientist can earn up to £41,616 per annum. Pay scales variate depending on your experience and expertise.
7. Social Sciences
Social sciences have always been off the table when parents proposed their choice of courses. Somehow, for quite many years' people failed to realize the importance of it. Social science is an umbrella, which embodies several different subjects such as sociology, anthropology, psychology, economics, politics, human development studies, and many more. Among all, economics and psychology are the talks of the town.
Each year 14% of the international students opt for social sciences courses. The employment rate for social sciences graduates is 74.3%. in the year 2020, 284,080 applications were received solely for this specific course. This number indicates the popularity of this subject in the UK.
Few of the top placement industries, that plays a pivotal part in the employment of the graduates are
Education
Public administration
Defense
Health sector
Social sector
Furthermore, social sciences open a vast range of career options such as academic professionals, HR consultants, Social workers, therapists, etc. These career options are far more diverse if we dig deeper into every subject division.
The highest paying job for a social science graduate is guidance counselors. Following through by human resource representatives and lawyers. Few of the highest paid jobs are of social sciences majors. So, don't worry you are on the right track. The pay bracket can't be defined as there are numerous occupations in consideration. However, on average £40,000 is the per annum of income of social science major.
6. Creative Arts and Design
It might surprise you how is an art-related subject is one of the most popular courses in the UK. Amazingly it is, according to the statistics of 2019, 228,810 applications were received for the subject of creative arts and design.
Arts sees no boundaries, that we all know but art also doesn't just dialog about the idealistic point of view anymore. Arts include both the idealistic and pragmatic approach of things. A student who is confident about his body of work and is creative should go for this course. A well-built portfolio will look at your application.
The employment rate for art majors is 77.2%. As art can be incorporated into any field and any industry so we will not be discussing the placement destinations. However, few courses that are offered under arts and design are.
Design studies
Fine art
Drama
Music
Crafts
Cinematics
Writing
Arts and design cover a lot of enriching career options such as screenwriter, music therapist, art director, graphic designer, dance teacher so on, and so forth. These career choices are not just gratifying but also very recompensing in terms of money. Especially if you are outstanding at what you do and have a distinctive body of work.
The initial pay bracket for art graduates is £15000-19000, it can rise to £27,000 after a bit of experience. Graphic designing and digital curating are very high in demand, due to the shift towards online businesses. The need for epic brand image and constant curation of designs for websites and digital platforms has increased the market value of a major in an art student.
5. Law
The nature of a law degree has always been depicted as one of the strong-headed ones. That is why it is among the popular degrees of the UK. Courses at universities and colleges of the UK focus more on developing the skill and knowledge required to practice law. In comparison to other universities that treat it just as an academic subject.
Some of the popular combinations include law with business, criminology, management, policing. Subject combinations allow you to choose a better career path in the future.
The employment rate of law graduates is 65.8%. Applications rounded off to 124,570 in the year 2020. Key areas of employment are
Banking and finance
Insurance
Accountancy
Business
Local government administration
Related careers include barrister, patent attorney, coroner, licensed conveyancer, and solicitor. The starting salaries for law graduates vary massively. If you are working as a trainee solicitor for a competitive firm, you can earn £22,000 to £45,000. Your salary can rise to £55,000 depending on the firm you are working for.
4. sports sciences
This subject includes the scientific study of physiology, psychology, motor control/learning, and biomechanics. It is the application of science to sports and training. The UK has some of the topmost universities for sports sciences such as Loughborough and Queensland.
Since 1990 this subject has been in the talks. It has an increasingly popular career sector along with the demand for expertise in performance analysis, business management, and community management.
Some of the professional courses in sport sciences include
Sports coaching
Physiotherapy
Sports journalism
Activity leadership
Exercise science
Sports photography
Some salient career options include sports professionals, coaches, personal trainers, physiotherapists, sports psychologist. All of these career choices are not only well paid but also well in demand. Among thousands of sports that are played, it creates a large number of employment opportunities for a sports science graduate. On average a fresh sports science major earns £21,421.
3. Business
Business applications have the highest acceptance rate each year. And according to this one of the highest employment rates i.e. 81%. These facts specify the reputation of a business course in the UK.
Courses that are offered by the UK are
Business studies
Finance
Accounting
Marketing
Human resource
Management studies
Hospitality
You can decide on your specialist study subjects and take up from there. The career options for all these courses are such as accountants, bank managers, business analysts, management consultants, financial advisors.
All of these careers are much heard of, not only that we come across a lot of business graduates around us too. And not all of them are working as employees for a certain salary package. A lot of business graduates also tend to run their businesses. So keeping that in mind, a business graduate can earn as much as he wants depending on their strong business intellect and sharpness. However, an average business graduate can earn £24,437 per annum. This can vary depending on the selected career option and expertise level.
2. Subjects Allied to Medicine
This is one of those courses, which might be not that popular among international students but 93% of the home students opt for this course. The employment rate being at 89.7% makes it the second most popular course in the UK.
The course matter that is covered under this umbrella is
Pre-clinical medicine
Clinical medicine
Anatomy, physiology, and pathology
Nutrition
Ophthalmic
Oral sciences
Medical technology
The government of the UK has also introduced a new grant for nursing, midwifery, and some allied health professionals. This grant will be applicable from August 2020. It will offer students between £5000-£8000, and there will be no requirement for payback. Some other small grants will also be announced and will be applicable from August 2020.
In retrospect of the above information, one can gauge the importance of this course for the UK. Some of the popular career choices include dentists, dieticians, doctors, pathologists, toxicologists.
The average salary of a medicine major starts from £30,636 and it elevates with the experience years.
1.     Nursing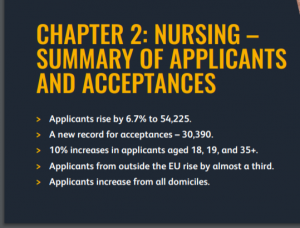 Nurses are the essential frontline of healthcare, all over the world. Especially today, when we are in a global pandemic the importance and requirement of the nurses have increased. Nursing is a subhead of medicine allied field, but the amount of applications each year has made this course stand out.
Few modules of the study include
Introduction to clinical care
Epidemiology
Complex care
Physiology for health
Public health
Patient care
As discussed above, the government has announced a grant for students who will be studying nursing. This will not only help their finances but will also motivate them to do better at their job.
A few of the related jobs are health nurse, care worker, midwife, paramedic. An average nurse can earn up to £24,000. Nursing is an area where a good amount of experience can lead you up to 15% of a pay increase.