If you have decided that you will study in the UK, the step is the visa application. Today we will discuss the visa application process in detail, along with the required finances and documents.
UK visa requirements and processes are managed by UK Visas and Immigration. It has a user-friendly portal to help you with a UK student visa. Students who are Swiss Nationals or from EU/EAA states do not require a visa to study in the UK. However, all other international students' need one.
As a student you can study, work in most jobs, and apply to extend your stay in the UK, however, you are not allowed to receive public funds.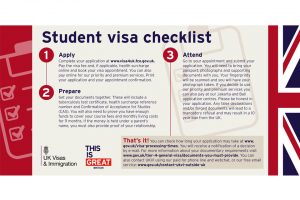 Categories of visa
1.     Tier 4 (General student)
This category is for students coming to the UK for post-16-education
A Tier 4 (General) student must be at least 16-year-old
2.     Tier 4 (child student)
This category is for children between 4 and 17 years old coming to the UK for their education
Tier 4 (Child) students can only study at independent schools.
3.     Short-term study visa
If you have enrolled for a short course, and are over 18 years old, you may be eligible for this type of visa. This visa is valid for up to 6 months and can be extended up to 11 months for English language courses.
Point-based System
PBS is a system through which people from outside EAA, travel to the UK intending to work, study, or invest. The applicants are divided into 5 tiers. PBS assessment needs to be passed to be eligible for a visa, in any of the 5 tiers.
Each Tier as different conditions, entry requirements, and entitlements for people planning to live, work, or study in the UK. Each Tier requires you to allocate a specific number of points to gain entry clearance. Points are allocated on different categories or traits.
The requirement for the TIER 4 visa is 40 points in total. This allocation of points comprises both admission and funding. 30 points are for admission; one must have a valid CAS (confirmation of acceptance) from a fully licensed Tier 4 sponsor. Remaining 10 points are for funding, you must have a sufficient amount of money to cover your tuition fee and monthly living costs.
You can earn 30 points for CAS by securing an admission in Tier 4 sponsor college/university. And remaining 10 by providing proof that you can afford your tuition fee and living expenses in the UK.
CAS (Confirmation of Acceptance for Studies)
CAS is a confirmation number for your admission to college/university. It's not a document but a digital record. Every CAS is a unique reference number and entails information regarding the course of study for which it has been issued, along with student's details.
When a CAS is assigned to you, certain details are provided alongside. This information includes your course details, the documents provided during application to assess you, and fees due for your period of study. Keep in mind that you can't proceed with your visa application without your CAS.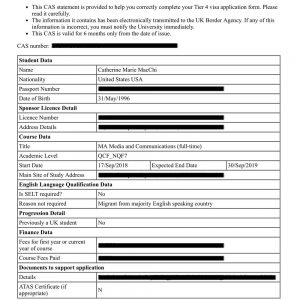 CAS is a must for visa application, and you can't make your visa application more than 3 months before your course start sate. It is only valid if it matches your details in your passport, it was assigned no more than 6 months before the start of your visa application, and lastly, if it has not been withdrawn or canceled by your college/university or UK home office.
CAS expires if it's not used within 6 months of its issuance. If an application is made through an expired CAS that your application will be refused. Double-check with your institution to ensure that CAS is valid before application submission. One of the most important things to remember is that CAs can be used only once, if your application is refused you will need to get a new CAS from your sponsor. However, having a valid CAS doesn't guarantee your visa success.
Visa: When to apply and Decision Time
The best time to apply for a visa is 3 months before the course start date, for example, if your course starts on 14 September 2020 the earliest you can apply is 14 June 30, 2020. Normally it takes 15 working days to process your application but priority service takes 5 working days. It is also advised to start your application process early to prepare a strong application.
The application fee to apply for a visa from outside the UK is £348, same is the fee for dependents. You are also required to pay a healthcare Surcharge fee of £300 for each period of 12 months. If your course lasts 6 months or less you are advised to arrive 1 week before and if your course lasts more than 6 months you are advised to arrive 1 month before your course start date.
Documents required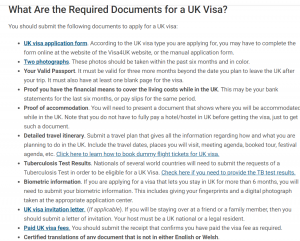 Passport
A recent photograph
An unconditional offer letter, by a licensed Tier 4 sponsor proved by a CAS from your institution.
The certificate(s) of qualification
The transcript of results
Proof of financial support throughout your stay in the UK
If you are a non-EU/EEA/Swiss student studying a subject of sensitive nature you may also need an ATAS certificate.
Parental consent
Tuberculosis test
Maintenance: Funds and Evidence
As mentioned above, this section requires to have proof that you can cover your course fees and living costs. Proof of financial support can be in the form of bank statements or a letter from your financial sponsor showing that you can afford all your expenses or lastly official financial or government sponsorship available to you. Your financial statements must show an amount of £1,265 per month for living costs if you are studying in London, and £1,015 per month if you are living outside London. The bank statement should show £11,385 is available.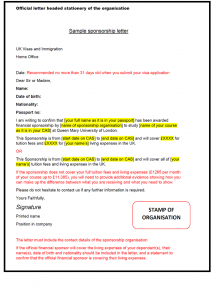 You can either use your account or your parents' or legal guardians' account. If you are using an account of someone else apart you, evidence of relationship and permission to use that money will be required. Financial instruments such as shares, bonds, overdrafts, credit cards, and pension funds are not acceptable. Your funds must have been held for a consecutive 28-days period and shouldn't be more than 31 days old at the time of your application.
If your Tier 4 sponsor can include details of the money you have paid already on your CAS, then there is no need for any further documents to show the proof of payment. If not, then you will need to send a paper receipt issued by your UK sponsor confirming that you have either paid all your fees or the exact amount you have paid.
Parental Consent
If you are Tier 4 (general) student under the age of 18 or Tier 4 (Child) student, parental consent is necessary with your application. Parental consent must include your relationship with your parent or guardian, their consent to your application, agreeing to your living agreements in the UK, and agree to make arrangements made for your travel and reception. Evidence of your relationship must be attached. Either the birth certificate or the legal document showing certification of adoption.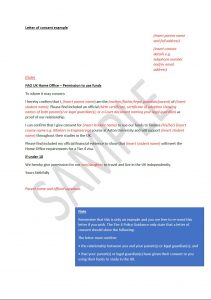 Tuberculosis (TB) Certificate
If you are going to the UK for more than 6 months and are a citizen of Pakistan, a TB certificate is mandatory for you. Make sure you get tested from an approved clinic, otherwise UK home office will not accept it.
You can book a test at an approved clinic in Pakistan by calling the IOM (International Organization for Migration).
List of approved clinics
Islamabad – IOM, Migration Health Assessment Centre.​
the second floor of Maroof International Hospital, F-10 Markaz​
Lahore – IOM, Migration Health Assessment Centre​
70-H, Gulberg-III, Lahore​
Karachi – IOM, Migration Health Assessment Centre​
Plot#F-14,PECHS,Block6,​Shahra-e-Faisal,NearKFC​
Karachi​​
Mirpur – IOM, Migration Health Assessment Centre​
Plot No. 6, Block D-4​ F2 Road, Football Chowk AJK, Mirpur​
Visa interview
A Visa interview is conducted to check whether you are a genuine student or not. It is either conducted in person or via telephone. You might be called in for a second interview. If as a result of an interview the Home Office is not satisfied that you are a genuine student, or your application is shown to fall for refusal under General Grounds, the application will be refused.
One of another reason for refusal of your visa application can be if the UK home office is not satisfied that you can speak English to the required standard. Attending your interview is mandatory if you fail to show up for your interview without any reasonable explanation, your application will be refused.
Biometric Residence Permits Card (BRP)
It is a card, used as a proof of your visa in the UK, anybody going for over 6 months will get a BRP. You apply for your BRP at the same time as you apply for entry clearance. If your entry clearance application is successful, you will be given a vignette (visa sticker on passport page) valid for 30 days.
This sticker allows you to enter the UK within 30 days. You must not enter the UK earlier than your first date on your vignette, or your Tier 4 will not be valid. You can collect your BRP from Post Office Branch you selected no later than 10 days after you arrive in the UK.