Graduates in the UK earn significantly higher in comparison to graduates in other countries. Keeping in mind that the UK is known for its reputed higher education system globally. So acquiring a degree from one of these universities makes you stand out in the job market.
The employability of UK graduates has continued to grow over the years. This has led graduates to build successful career paths by using the theoretical and practical skills they learned during their degree.
In this article what graduates in the UK earn, compare different categories of employees levels of, and see the salary differences by age as well as by gender and industry.
How much do graduates in the UK earn?
For easy understanding, the term 'graduates' applies to those individuals whose highest qualification is an undergraduate degree. And the one below undergraduate is referred to as 'non-graduate'.
According to the department of education, salaries have increased in comparison to previous years. More specifically, working-age graduates (16-64) were paid £34,000 median salary in 2018, in comparison to the year 2017 when they earned £1,000 less.
Non-graduates, on the other hand, received a median salary of £24,000; meanwhile, those on the postgraduate levels, earned a significantly higher amount of £40,000 median salary, £6,000 more than those in the graduate level.
Also, according to statistics, employment rates are quite satisfactory. However, the percentages are higher for those with an undergraduate degree (87.7%) in comparison to those who do not have a higher education qualification (71.6%).
Salaries difference by age
The evidence of differences in income when it comes to age is quite evident through research and statistics. You can notice gaps between the salaries of 16-24 and 21-30 age population.
16-24 is the working-age graduates and 21-30 lies within the young population. The non-graduates within the working-age group earns £3000 more than the non-graduates among the young population. This data depicts that experience and skills play an important role in determining your salary range. Furthermore, the graduates in the working-age group earn up to £3000 median salary, £8,500 more than those belonging to the young population age, who earn £25,500 median salary annually.
Postgraduates, on the other hand, enter the job market later than non-graduates or graduates. Despite this fact, their salaries are quite satisfactory and the highest in comparison to the formerly mentioned age groups and levels of qualification. Postgraduates among the working-age group earn a median salary of £40,000, which is £10,000 more than the young population who earn a median salary of £30,000 in the same level of qualification.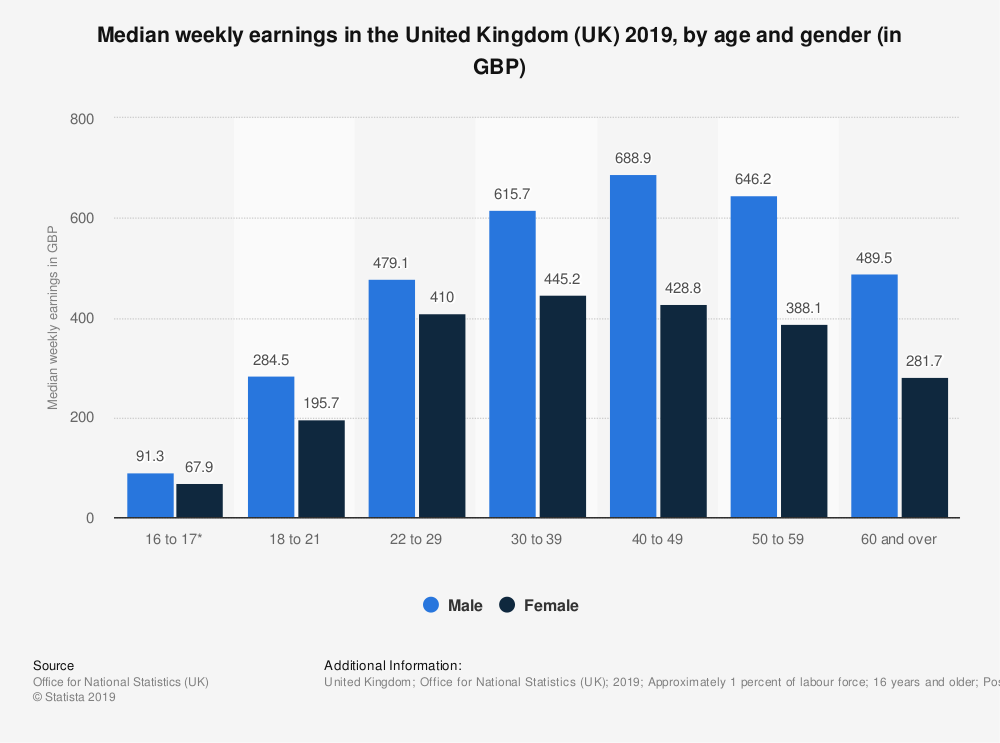 Salaries difference by Gender
Today even living in the 21st century, we still face disparity in salaries based on gender. Statistics show that males in each group are paid higher than females in those respective groups.
The average annual salary of males in the working-age group is £38,500, while female employees earn £29,000. AS you can the difference of £9,500 which isn't that negligible at all.
Furthermore, female postgraduates in the working-age group earn £6000 less than the males. Given that the average salary of males per year is £43000, while of females it is £37,000.
The average salary of working-age non-graduates also shows a disparity in salaries based on gender. Where men non-graduates earn £26,500 on average, women earn £20,000 annually.
The young population group also faces this dilemma. In all fields, men earn at least £3,500 more women. This pay disparity is noticeable in all 3 groups. However, we tend to see the young population group experiencing it much less in comparison to other groups.
Wage gap by Industry
The kind of job market or industry plays a key role in determining your annual income, be it from any group graduates, non-graduates, or postgraduates. Moreover, statistics from the Department of Education show that the highest salary was among working-age males in Transport and Communication, a total of £45,000 average salary, which was £10,000 less than females in the same industry and age group.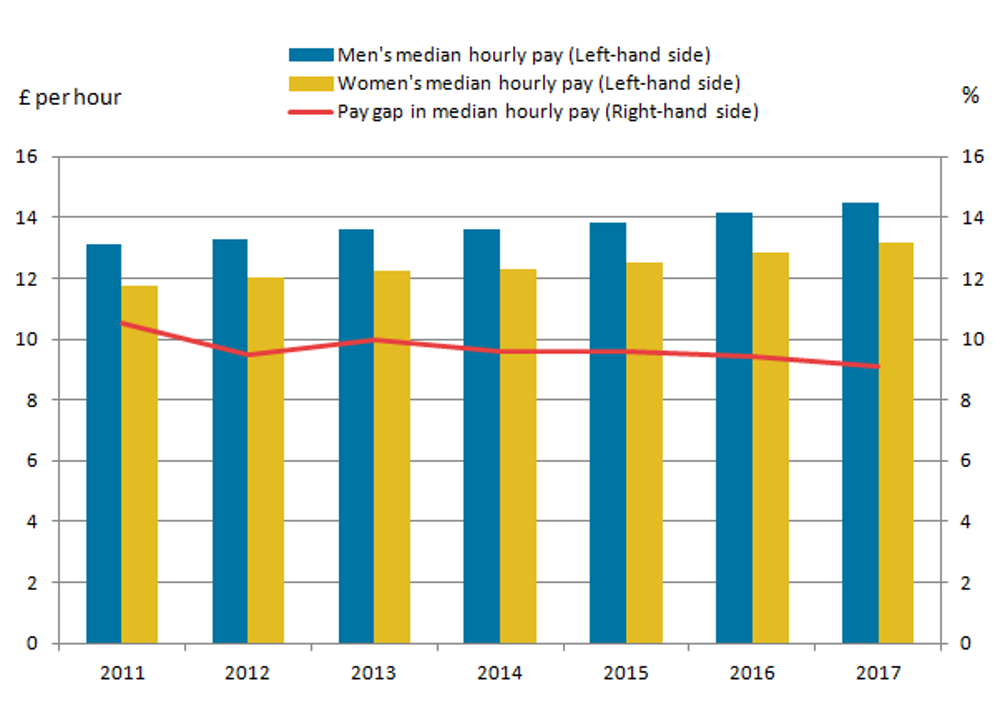 The maximum difference in average salary by gender was noted in Manufacturing, with males earning £12,000 more than females. The smallest difference among working-age individuals was noted. Respectively in the Public Administration, Education, and Health sector, with a £7,000 difference in average salary.
The difference was less evident. However, among the younger graduates, with the smallest being in the Distribution and hospitality, with a gap of £1,500. Salaries also vary from sector to sector. While some industries offer higher-paying jobs, others pay significantly less.
Some of the jobs that pay the highest salaries in the UK belong in the fields of aircraft, engineering, banking and finance, science, manufacturing, transport and communication, legal professions, etc. Besides, the degrees that have the highest employability rates are economics, computer science, law, mathematics, engineering, and medicine among others.